Cub Scout leaders work hard so that our Scouts can have great experiences. Although they don't expect it, reward their efforts with one of these Cub Scout leader gifts.
"We often take for granted the very things that most deserve our gratitude." ~Cynthia Ozick
Cub Scout leaders sometimes fall into this category. We appreciate what they do for our kids, but do we (and our Scouts) say thank you enough for our leaders' dedication and hard work? A Cub Scout leader gift is the perfect way to say thank you!
Leaders aren't volunteering for the glory. They just want our children to have a great Scouting experience. But that doesn't mean that we shouldn't show them our appreciation from time to time.
Whether you're chipping in with the rest of the den families or purchasing a gift just from your family, you'll find some great ideas in this Cub Scout leader gift guide.
Cub Scout Leader Gifts
My Ultimate Cub Scout Planner is the perfect gift for den leaders! It's available in either a fillable & printable version or in a digital version.
This all-in-one planner / organizer/ tracker has 8 sections and all the information and templates your leader needs to keep track of their plans and to make sure the Cub Scouts have a great year.
Check out these personalized axes. You can have your choice of symbols and your own text laser engraved with your den leader's name.
This is a fully functional axe, so it is not suitable for Scouts–only for adults.
Your leader will love having this useful tool on his or her next campout.
Your den leader will remember the Scouts every time he or she hangs up their keys with this personalized key hanger.
It's laser engraved on unfinished cherry wood.
Outdoor Gear Leader Gifts
For the days when your Cub Scout leader gets to relax on a campout, he or she will appreciate this Eno hammock.
It's lightweight and packs up to the size of a softball inside the included stuff sack.
The hammock comes in several different colors–my choice would be the purple and teal! 🙂
Now, this is how a real Cub Scout leader roasts hot dogs and marshmallows! The Rolla Roaster Marshmallow and Hot Dog Roasting Fork Set is super impressive.
The pair of forks collapse down to 12″, but when you're ready to roast, they extend out to 42″ to keep those Cub Scouts safely away from the fire.
Notice that little black knob on the handles? That allows you to rotate the fork so that your marshmallows for S'mores will burn evenly. 🙂
When my friend Elizabeth's den found out that her husband and her two sons had a Flex Lite chair but she didn't, they all pitched in to buy her one!
Weighing just over a pound and half, the chair is easy to carry whether you're backpacking or heading to the soccer field.
It's comfortable too. I sat in Elizabeth's Flex Lite when we went to the Philmont Training Center a couple of years ago, and I really didn't want to give it back to her.
I don't know too many Scout leaders who don't want coffee first thing on a campout!
This AeroPress Go Travel Coffee Press is perfect to help them start their day with a hot cup of coffee.
Backyard Fun Leader Gifts
If your Cub Scout leader enjoys backyard time with his or her family, they'll love this Ladderball Game. The set includes 2 goal uprights, 3 red bolas, 3 blue bolas, and instructions all in a convenient carrying and storage bag.
Take it along to your next den meeting for a fun gathering activity. And it's great to have at a campout for the Cub Scouts or their parents to play.
Now, this looks like a blast! Kan Jam is a flying disc (aka Frisbee!) game where you and your partner try to get the disc into the can.
Partners stand at opposite ends of the playing field. One partner tosses the disc toward the can, and the other partner tries to deflect it so that it hits or goes into the can.
I'm thinking that our Cub Scouts would love Kan Jam too.
I bought Flickin' Chicken for myself! We had a blast playing it during our Campsgiving celebration.
I watched the video of a family playing the Flickin' Chicken, and I can just see Nana trying to throw the chicken under her leg! 🙂
The game encourages you to make up your own rules about how to flick the chicken. Given how creative some of our Cub Scouts can be, I expect all kinds of wacky rules.
Did you know that Amazon Prime has a FREE 30 day trial? I joined a few years ago right before the holidays so I could get Christmas gifts here more quickly. I loved it so much, I decided to keep my membership.
Subscription Box Leader Gifts
Subscription boxes are all the rage now and for good reason. It doesn't matter what your hobbies or interests are, there's probably a subscription box for it!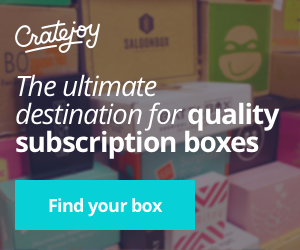 Here are just a few examples:
Your leaders will be reminded of your gratitude every time they get one of these boxes.
There are some awesome subscription boxes just for kids!
HP Sprocket
The HP Sprocket is a portable printer that lets you print photo stickers directly from your phone. It's great for mementos of all your Cub Scout outings and events.
Use the Sprocket for your first den meeting of the year or for your Pinewood Derby!
Thank You Notes
Leader gifts don't have to cost money to be treasured. Have the kids in your den write thank you notes to their leader, and encourage them to talk about what the leader has taught them in Cub Scouts. I promise these will bring a tear to the eyes of your Scouter.
What other gifts have you given your Cub Scout leader?
Yours in Scouting,
Sherry
P.S. Check out these posts with gift ideas for the Cub Scout!